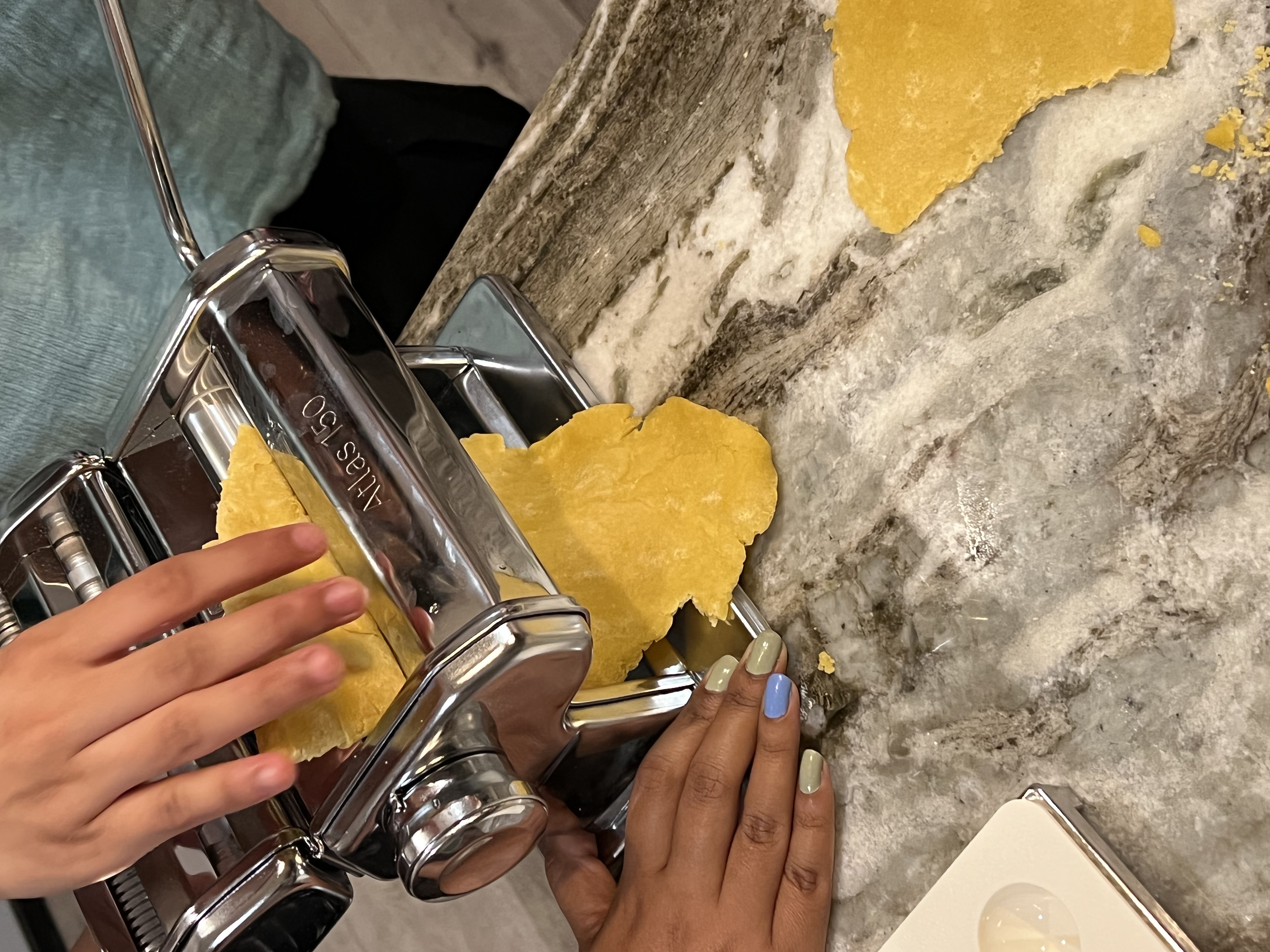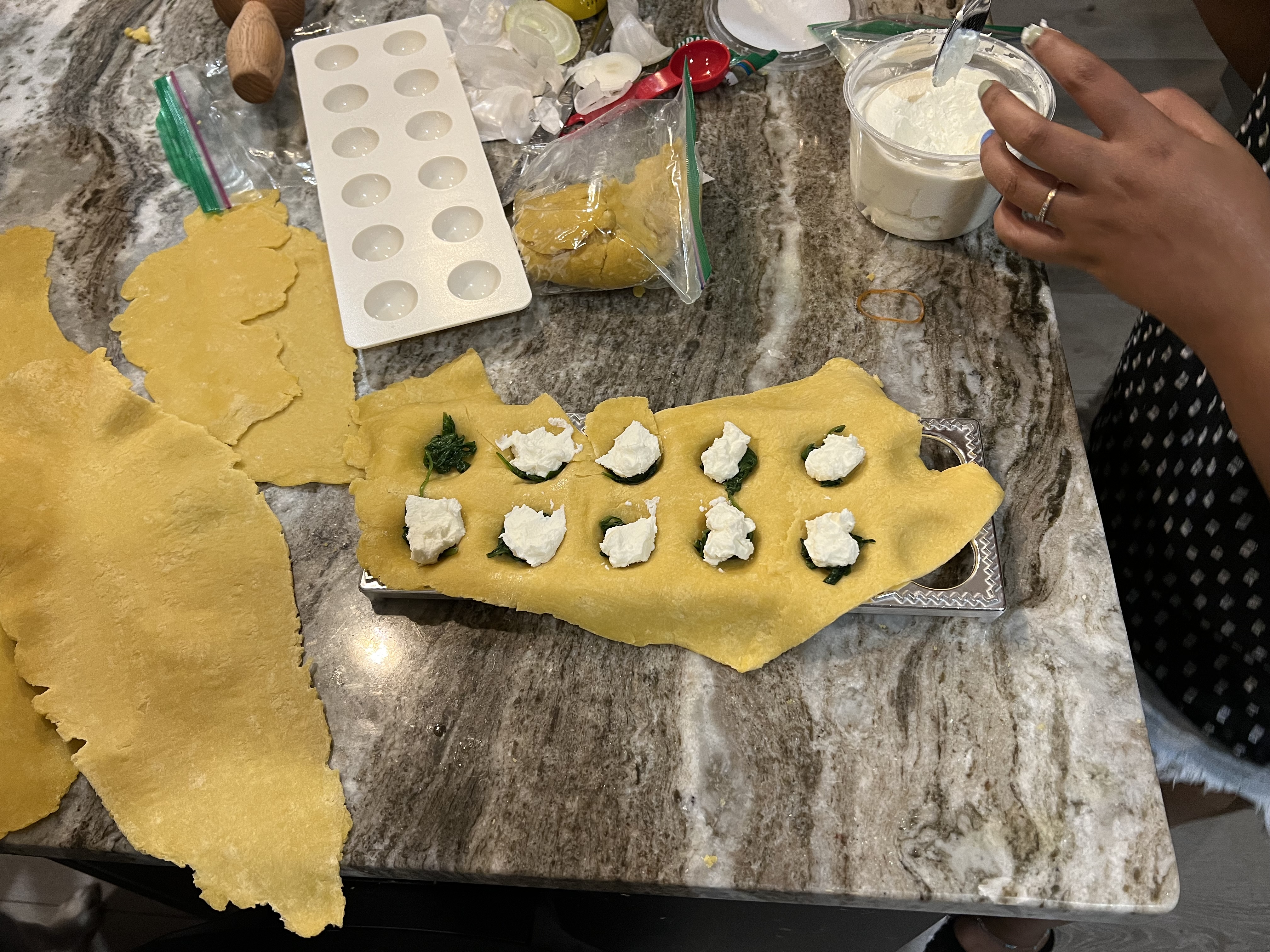 My husband's family is Italian. His mother's carbonara helped me fall in love with him. But my first tryst with Italian food happened years ago, in a Publix grocery store, in front of the, yes you'll have to forgive me, Buitoni ravioli section. I was enchanted with their four cheese, delighted with their seasonal squash, and in love with their spinach-ricotta. I doused them in Buitoni sauces: from vodka to alfredo and back again. Alas, I was thirteen, ravenously hungry, and home from school before my mother.
As I grew up, I brought my love of ravioli with me. It followed me to dorm kitchens that needed to be boiled more than the ravioli; it chased me to Italy where I learned that you could, in fact, survive the bliss of black truffle shaved over crab-stuffed ravioli; and my love for ravioli settled down with me at Fantes where our intrepid owner, Mariella, taught me that I might as well learn how to make my own ravioli because, and this shocked me,it's easy.
What did she mean? How could this be? Could Buitoni be beat? At their own game?
Yes. It is startlingly easy to make restaurant quality ravioli at home. I know what you're thinking: where can I find those fabulous rectangular dishes that put the michelin in michelin starred ravioli? The answer: I don't know, but I have two items that will prove indispensable to your ravioli operation: a pasta maker and a ravioli mold.
So, how are we going to make our raviolis? Well, I only ask your patience, as Mariella asked mine, because I'm going to attempt to share a 'no-recipe recipe' with you all. I'm going to share something so easy, it can't be quantified in cups and the like.
Here are things you're going to want to have on hand:
Flour (all purpose gives a more 'doughy' bite, Type 00 issoft,and semolina and durham are, well, hard to work with)
Eggs
Some cheeses (I only used parmesan and ricotta--but please mix this up as you'd like)
Ingredients to build a sauce around the raviolis (I made a pan sauce out of the rendered fat from Esposito's marvelous Broccoli Rab Sausage, i.e. a bit of added butter, white wine, garlic, and a big splash of the pasta water to complete and thicken)
A group of hungry people
In 2021, Sam Sifton and the New York Times released their No-Recipe Recipes cookbook. For some home cooks it was a revelation, for others it was a reminder: cooking is about feeling and tasting your way through dishes. This isn't to say that you can open your pantry and just smell your way through your grandmother's manicotti, but it is to say that you grandmother could. This ravioli is an excellent example of a meal you can grow through: its sauce can change with the season or your ingredients on hand, its filling can vary with the occasion (yes, I'm thinking lobster ravioli for New Year's Eve this year), and slight variations in flour (or a combination of them) will routinely deliver different bites.
Without further to do, let's start with your pasta.
Mariella taught me that when she makes pasta at home, she uses about 1 egg to every 1 cup of AP flour. When I made the dish, I used two and a half cups of type 00 flour, a quarter cup of semolina and durham, and 4 medium eggs. I actually combined them in a food processor (like a tart crust) until they had mostly congealed. Then, I threw the dough on the counter and began to roll it using a rolling pin. You can feel when your egg to flour ratio is right because it's neither wet and sticky nor too crumbly and dry.
Before I run it through my Atlas pasta machine, I separate the dough into a handful of manageable and already rolled pieces. Use an odd number for ravioli (when you discard the edges after you make your raviolis, that will serve as the last sheet). I start at the lowest setting (0) and gradually work myself up to the desired thinness (in this case, I went for the number 6 setting on my Atlas). It's super helpful to have a helping hand to 'catch' the pasta as it rolls out. This is such a fun dish for a dinner party around making dinner.
When you have your sheets ready, it's time to fill them!
What kind of filling are you thinking?
My favorite is spinach, parmesan, and ricotta. I stir-fry some spinach, garlic, salt, and pepper, in olive oil until cooked down. I then put my spinach in a strainer or colander and let a bit of the excess moisture drain out. Oh, and I buy a tub of fresh ricotta at Talutto's and a wedge of parmesan at Claudio's (yum!).
So, I guess it's time to make the ravioli after all:
Your fante's ravioli mold is in two parts: an aluminum rectangle filled with holes and a plastic mold that you use to push filling pockets into the dough.
You're going to want to lay a sheet of your freshly made pasta over the aluminum mold. Then, you're going to gently push the plastic mold over it so that your sheet of pasta has little 'pockets' for filling.
Now it's time to dollop in your filling: I spoon in, in roughly equal but more cheesy portions, the spinach, ricotta, and parmesan.
Lastly, add another of your fresh-pressed pasta sheets to the top of your ravioli mold and roll firmly until the mold cuts perfect and pretty ravioli for you. In my case, I actually did the finishing touches using a paring knife--things don't always go as plan!
And just like that, boil in salty water until done. Remember, fresh pasta is done before store bought pastas. Have a nibble in around 5-6 minutes.
And viola! You've made the first of, I hope, many ravioli dishes. What sauce did you use? Comment down below. And if you have any questions don't hesitate to write.
Yours,Gigi <3